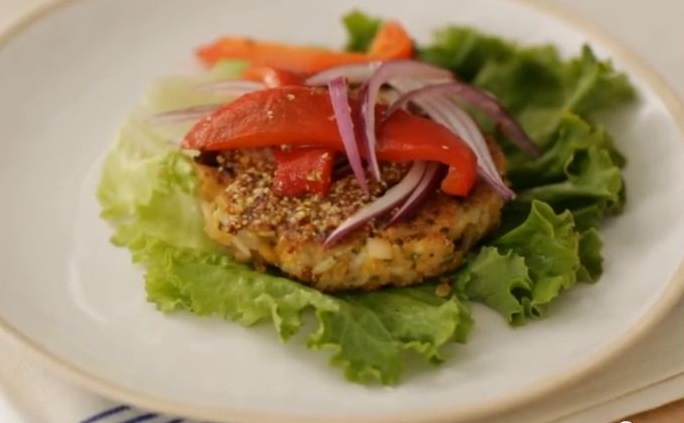 Shira makes a delicious vegetarian burger with chickpeas and brown rice as the main ingredients.  This combination creates a perfect protein.  She adds shallots, garlic, parsley, and an egg for a binder.  Vegans can easily find an alternative to the egg in this recipe.  Shira likes to cook vegetable burgers on a hot pan instead of a grill to get a nice sear on both sides.  In this video, she wraps her burgers in lettuce with onions, roasted red peppers, and mustard for her condiment.  This burger recipe is very healthy and delicious.  Try it.  Enjoy.
"Shira Bocar is food editor for Martha Stewart Living magazine, where she develops delicious and nutritious recipes. She hosts MarthaStewart.com's "Eat Clean" series, providing useful tips for creating mouthwatering meals with healthful foods.
A graduate of New York University, Shira received a Bachelor of Arts degree in photography and art history in 2000, as well as a Culinary Arts Diploma from the Institute of Culinary Education in New York City in 2002.
Before joining Martha Stewart Living Omnimedia in 2004, Shira cooked in restaurants and worked as a recipe tester. Her favorite ingredient is olive oil, and she can't live without freshly ground black pepper at the table. Born and raised in Oklahoma, she now calls Brooklyn home."
You can find more recipes on the "Eat Clean" section of the Martha Stewart website, marthastewart.com.
You can find additional video recipes on Sarah Carey's youtube channel, Everyday Food.